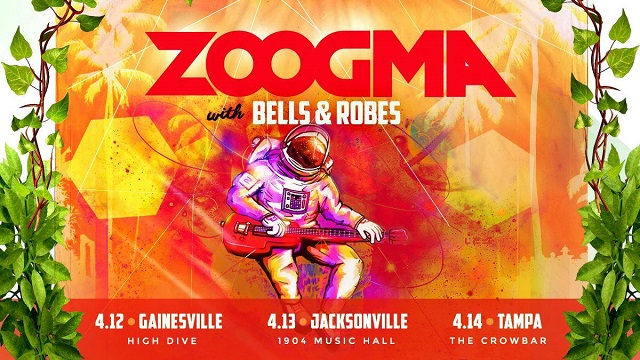 #Florida fam let's send our beloved Zoogma boys off with a bang as they show some sunshine state lovin' with three dates on their final run together! 10 years strong, the boys have mutually decided to an indefinite break so don't miss out on the farewell parties in your area featuring the additional bonus of Bells and Robes!
4/12: Gainesville FL HIGH DIVE (Gainesville, FL)
RSVP: http://bit.ly/2GEauPR
4/13: Jacksonville FL 1904 Music Hall
RSVP: http://bit.ly/2Iv7llM
4/14: Tampa FL Crowbar
RSVP: http://bit.ly/2q9mmSF
Don't miss your chance to finally figure out WTF Zoogma really is! 
✌
????#floridamusicblog #zoogma #WTFISZOOGMA#WhereTFisZoogmagoing #farewellfromflorida #faretheewell
Previous: [Interview] Zoogma Indulges us on "A Future in Blue" and More
MORE DATES:
4/19 Atlanta GA Aisle 5 (SCI Late Night)
RSVP: http://bit.ly/2GYgcQ0
4/22 Backwoods at Mulberry Mountain
5/19 One Vibration Music Festival Durango CO
5/27 Summer Camp Music Festival Chilicothe IL
A word from Bells and Robes:
"Fans can expect to hear our new EP, Pleasures Of Mind and tons of new unreleased music. People can also look forward to some special sit-ins.
We're hoping to see a lot of love flowing for Zoogma. We have so much respect for them as individuals and musicians. They are awesome guys, and we wish them the best in the next chapter of their lives."