We're working to bring you all the news on all the live music events around Florida. Want to share your experience/content with the blog? See the instructions at the end of the article.
JACKSONVILLE
Zoogma with Bells & Robes – April 13, 2018 at 1904 Music Hall
On April 5th, our beloved Zoogma announced they would be taking "an indefinite break." The crowd could almost feel the collective sigh throughout the Dirty South, as fans all over realized we didn't have that much time left with them. The sadness was replaced by relief, as Florida fans found out we had three opportunities to catch them before going into indefinite retirement.
The Jacksonville show at 1904 Music Hall was sandwiched in between an evening in Gainesville and one in Tampa. Opening support was provided by Vlad the Inhaler and Bells and Robes. Vlad doled out danceable beats throughout the night, keeping the vibe going and the crowd moving in between sets.
Over the years, the Jacksonville music scene has been blessed with the opportunity to see many talented musicians. While Zoogma has only been around ten years, many of us almost feel as though we "grew up" on them. And, in a sense, we did. The love and respect this community has for them was evident, both in the sheer number in attendance and the conversations that could be heard throughout the night. Their energy, precision, and diversity ensured an epic dance party, perfect for a going away celebration. While the entire show was amazing, it would be remiss if we failed to mention their "Make Me Feel Good" performance. As soon as fans think they have finally figured out "WTF is Zoogma," the band hits us with something else that keeps the guessing game going. A resounding THANK YOU goes out to 1904 Music Hall, Wilson Brothers Entertainment, Zoogma, Bells and Robes, and Vlad the Inhaler for ensuring our last night with the boys was one for the books.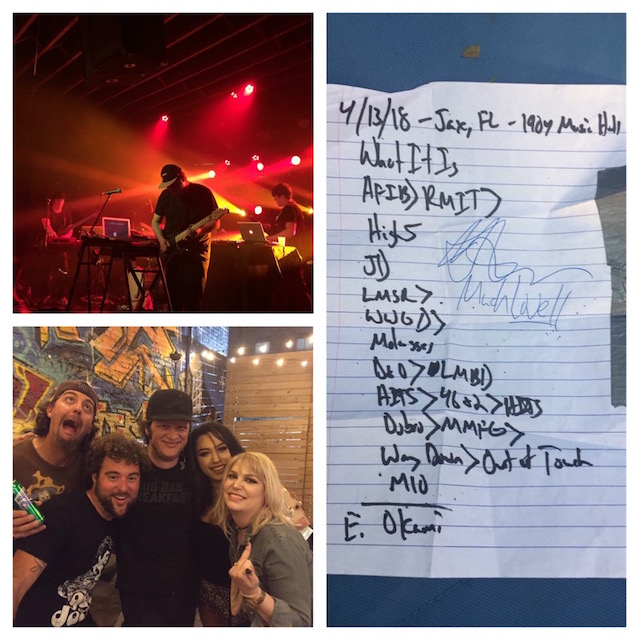 photos via Instagram: @inspiraled_t
TAUK with S.P.O.R.E. – April 27, 2018 at 1904 Music Hall
It has been quite some time since TAUK blessed the Jacksonville music scene with a performance. So, when JaxLive and 1904 Music Hall announced the April 27th show, the community committed whole-heartedly. There was no way anyone was stopping us from seeing one of our favorite bands!
S.P.O.R.E. started us out proper, bringing the kind of high-energy set they've always been known for. After taking a nearly two-year hiatus, it's great to see the infamous Florida band back onstage. Once again, Vlad the Inhaler kept the momentum going all night long. His 5-hour long patio set ensured attendees never missed a beat when they stepped outside for some fresh air.
The nearly sold out show was filled with sTAUKers, all anxious to hear what they had in store for us. For many, this wasn't just a show. It was a pilgrimage through space and time. One that included old favorites, as well as new material from their recently released EP, Shapeshifter I: Construct. Tauk played for nearly three hours, with only a brief intermission halfway through. One can only imagine how exhausted the New York-based quartet was, as they gave us everything they had all night. It's almost impossible to choose one favorite moment – the entire night was one big favorite. As the wife of a drummer, however, I never get tired of watching Isaac Teel's skills on the kit. Their rendition of "Come Together," with Isaac singing lead vocals and drumming, was very impressive. If there was ever any doubt in anyone's mind, Tauk proved Friday night why they are one of the most respected bands in the industry today.
DJ Icey – April 28, 2018 at Myth Nightclub, Element Bistro & Craft Bar
Since the early 90s, Florida Breakbeat lovers have known one thing for certain – if DJ Icey is in the house, it is guaranteed to be an incredible night of dancing. On Saturday, April 28th, the DJ legend returned to Myth Nightclub, Element Bistro & Craft Bar for another stellar performance. Jacksonville DJ favorites Lab3 & Ofay, K.T. Slawson, and Tyler Kirby offered opening support, with DJ Ibay on the patio all evening. By the time DJ Icey got behind the tables, the house was packed and the crowd was wired for sound.
After a long, hot day at Welcome to Rockville, many of us weren't sure our legs and feet could handle much more. Moved by the unique sound that DJ Icey always delivers, and the respected Jacksonville dancers that have kept things moving on the dance floor for over twenty years, your feet couldn't help but move to the beat. Icey always seems to know how to read his crowd, melding various styles of music into a set that rivals the "old days." By the time we all walked out of the club Saturday night, we were drenched in sweat, our feet were weary, and our hearts and souls were full. Promoters, Kinesis Pro, I Love FL House, Phukheadz and PMD, along with Myth Nightclub, know how to throw a party like no one else. See you guys on the dance floor!
Seattle's Harrison Mills and Clayton Knight, better known as Odesza, made their long-awaited appearance in Jacksonville on May 16th. Hosted at Daily's Place Amphitheater, the duo blew the roof off the place, with a musical, lights, and stage show that was truly second to none. Complete with a drumline and live horn players, Odesza showed exactly why they're such a hot commodity and meteoric stars.
Photo: Odesza Facebook page
Daily's Place has steadily booked top quality national acts of various genres over the past year, with no end in sight. Be sure to catch hometown favorites, Tedeschi Trucks Band with The Marcus King Band and Drive-by Truckers, for their Wheels of Soul Tour this summer, making their stop in town June 29th.
Space Lab Events dominated the Duval electronic music scene last couple months bringing to town Esseks, Levitation Jones, Clyde P, Amtrac, D3V to name a few. Mark June 23rd on the calendar for Sage Armstrong at 1904 Music Hall.
Speaking of 1904 Music Hall, this venue has consistently welcomed numerous amazing acts to their stage, both locally, regionally, and nationally. Jacksonville's very own tastemaker, Vlad the Inhaler, recently presented another edition of the Crunchay 24 party – 24 hours of the best electronic DJs in the area and beyond. An amazing showcase of talent and heart was on display, as usual.
Jazz Fest, one of Jacksonville's jewels of the city, took over downtown in May. With various stages and some real heavy hitters of the jazz landscape on this year's bill, attendees were given stellar performances from the musicians, all focused on electrifying their audiences.
Jazz Fest After Dark's lineup included LPT, Master Radical, Prinze Jr., 1904 Funk Jam, Rattlesnake Shake, Big Sam's Funky Nation and Bonnie Blue. Read our interview with Big Sam's Funky Nation here.
The epicness continued with Big Boi on May 28th.  The 7-time Grammy Award Winner packed the house, delivering hit after hit.  The crowd walked out of there with raspy voices and drenched in sweat from singing and dancing their hearts out, as each of us checked another legend off our bucket lists.
ORLANDO
On April 22nd, our friends at J-Dog Productions threw a Femme Fetale House Party at Peek Downtown. Jenn Martinello headlined the event which also featured DJ Love Lee and DJ Alpha. In May, Peek also hosted Benzmixer w/ Symbiotic & Nvikto on 5/18, Full House x Droogfest presents: Booler Room on Sat 5/19 and Subtract-Sunday on 5/20.

Mauricio Arroyave, Jeremy Browne and Jenn Martinello via AJ Hege Photography
Vizion 1 & IN Orlando have been keeping Sundays cool at Elixir Orlando with Deep Therapy Pool Party Edition. The launch party kicked off April 22nd. May's edition with Weiss was moved indoors due to rain. Oscar G also played Elixir on May 19th. June is set to host Dennis Cruz on June 10th and Lee Foss on June 17th.
Celine Orlando has been steadily booking top tier electronic acts and DJs, such as Hot Since 82, Drake Bell, and Amtrac. This lavishly decorated nightlife spot also hosts a weekly rooftop jazz event featuring live bands. Upcoming electronic acts, such as Rüfüs Du Sol and GTA, are sure to continue to draw big crowds, especially with the summer months upon us.
Justin Timberlake was the talk of the town as he made his way to the Amway Center for The Man of the Woods Tour. Looking at the Facebook event page, JT brought out all the ladies! The Amway Center was also busy back in April with P!NK's Beautiful Trauma World Tour, Bon Jovi's This House is Not for Sale Tour and Katt Williams' 11:11 RNS World Tour.
FT. LAUDERDALE / MIAMI
Fort Lauderdale's Cash Only has been keeping the house music pumping with the acts like Ardalan, Oscar G, J.Phlip and many more. View their upcoming events here. Thanks to Taylor of Exalted Imagery for the following shots:

J.Phlip @ Cash Only
Ardalan @ Cash Only
Ardalan @ Cash Only
Exhaulted Imagery also submitted these amazing shots from the "What I got – Sublime Tribute" at Churchill's Pub in Miami:
As music festivals gain greater popularity, audiences of all genres are able to check out some of their favorite performers, as well as some welcomed surprises. Established fests, such as Atlanta's Sweetwater 420, Orange Blossom Jamboree in Brooksville, FL and Jacksonville's Welcome to Rockville, as well as newcomers like Brainquility in Tampa and the Country 500 in historic Daytona International Speedway, all gave fans something to get excited about. And these are just a few of the music and arts showcases happening in the Spring, with many more on deck for Summer and Fall.
Have any live music stories/photos to share on Florida Music Blog? We are currently accepting volunteered content for publishing in our monthly recap. No experience required. To be considered, email your city and contact info to submissions@floridamusicblog.com – Subject Line: Live Music Recap