We're working to bring you all the news on all the live music events around Florida. Want to share your experience/content with the blog? See the instructions at the end of the article.
JACKSONVILLE
Perpetual Groove with Honey Hounds & Invisible Friends – June 10, 2018 at 1904 Music Hall
After a two-year pause from touring, Perpetual Groove is back with a vengeance. The Jacksonville show on June 10th was the last of a three-night Florida run on their summer tour. Duval-based bands Honey Hounds and Invisible Friends opened the night, ensuring an eclectic evening of music. Between the light show, pure talent, and the passionate crowd, this ranks as one of our top evenings at what has become our favorite music venue in Jacksonville.
editor's note: Congrats to Honey Hounds for making a huge appearance opening for One Republic at America's Freedom Fest in UT. See video below.
Monday Night Funk Jam at 1904 Music Hall
Every Monday evening, many of Jacksonville's top musicians meet up for an evening of funk music and improv.  The evening is hosted by 1904 Music Hall and The Funk Jam house band, comprised of heavy hitters Adam Kenneway (of Bonnie Blue & DANKA), Shaun Taunton (of Dirty Pete & The Melody Trucks Band), & Javian Francis (of Squeedlepuss & Mama Blue).  Musicians are urged to bring their own horns, guitar, or voice, or step up to one of the house instruments, as attendees are treated to generations of funky tunes.  1904 Music Hall and Spliff's Gastropub offer food and drink specials throughout the night, making this a surefire way to rid yourself of those Monday blues. There is no cover, so be sure to check out this weekly event!
Sage Armstrong – June 23, 2018 at 1904 Music Hall
Dirtybird fans flocked to 1904 Music Hall on June 23rd for a much-anticipated evening with Sage Armstrong. Sage treated fans to a barn burner set of underground house music that included original vocals and danceable beats. KT Slawson, Fusion, and Charlie Hustle kicked the night off, with Hustle playing two sets that prove why he is one of the top Jacksonville DJs. Hosts Space Lab Events, PMD, and I Love Florida House's next collaboration at 1904 Music Hall will take place on September 29th. Stay tuned for more details.
Pixies – June 24, 2018 at The Florida Theatre
Pixies played a sold out show at The Florida Theatre with opening guests, Wombats. A perfect summer mood filled the room with background images decked in shades of sunset colors. The Art Deco walls and ceilings hugged die-hard fans as Paz Lenchantin, female lead, and Black Francis, male lead, crushed skeletons with their guitar melodies and indie vocals. An encore brought in applause as they played "Gigantic" off of their 1988 album Surfer Rosa. Every soul inside stood and honored the great 80's band. – words & photo by: Annabel Shettel
Rebelution – June 24, 2018 at St. Augustine Amphitheatre 
Summertime in Florida means fun in the sun and dancing with friends to today's top live reggae acts. In support of their new album, Free Rein, Rebelution is in the midst of an extensive summer tour, with three shows in Florida. In addition to the sold out show at St. Augustine Amphitheatre on June 24th, they also played at Orlando Amphitheater in Orlando and Sunset Cove Amphitheater in Boca Raton.
Rebelutionaries were treated to an epic lineup, with performances from Stephen Marley, Common Kings, and Zion I Crew. During stage changes, DJ MACKLE kept the crowd grooving, treating us to everything from Hip Hop to House and Reggae. Slightly Stoopid's School's Out For Summer 2018 Tour, featuring special guests Stick Figure and Pepper, will take place on July 19th at the St. Augustine Amphitheatre. The show is sold out, but you can visit the event page to be a part of the ticket exchange discussion.
Photo: Tucker Joenz
Tedeschi Trucks Band – June 29, 2018 at Daily's Place 
When Tedeschi Trucks Band announced their Wheels of Soul Tour, rock fans across Northeast Florida knew they were guaranteed a night of gut-wrenching guitar licks and heartstring-pulling vocals. While The Marcus King Band may be the youngest band on the lineup, their set proved why they have risen to star status in such a short time. Drive-By Truckers kept the southern rock going, with an energy that forced an otherwise seated crowd to their feet. The moment Tedeschi Trucks Band took the stage, I was reminded, once again, what music can do to soothe the soul. Blazing through fan favorite after favorite, TTB brought attendees a church service that will be remembered for years to come. If you haven't had a chance to check out a show at Daily's Place, you're missing out! Check out their calendar here for a full list of upcoming events.
The Justice Pub is the newest bar to open in what is known as Jacksonville's Elbow District. Located on E. Bay Street, it is in the heart of the action. Or, many would argue, is THE heart of the action. From trivia night, to a monthly drum & bass party, and live acoustic sets, you are guaranteed an adventure no matter what night of the week you visit the pub. Check out a full list of upcoming events here.
ORLANDO
Frank Turner & The Sleeping Souls – June 10, 2018 at House of Blues Orlando
Folk Rock favorite, Frank Turner, released his seventh studio album this May, his first release in nearly three years. The album, described as "a record that combines universal anthems with raw emotion and the political and the personal, with the intricate folk and punk roar trademarks of Turner's sound imbued with new, bold experimental shades," gives Turner fans a lot to think about. In support of Be More Kind, Turner and his band The Sleeping Souls have launched an extensive world tour. Their only Florida stop was at House of Blues Orlando on June 10th. Top-notch artists Lucero and The Menzingers offered opening support.
G.T.A. – June 14th, 2018 at Celine Orlando
When Julio Meija and Matt Toth, better known as G.T.A. stepped into Celine Orlando, all in attendance were anticipating nothing but good times ahead. They weren't disappointed. This electronic music power duo, with releases on Fool's Gold, Mad Decent, SIZE and MixMash, have the Orlando crowd an exciting mix of club bangers and their own brand of exciting remixes.
RÜFÜS DU SOL – June 15th, 2018 at Celine Orlando
Following RÜFÜS DU SOL's performance at Plaza LIVE Orlando, along with Elderbrook, and Touch Sensitive, the trio hailing from Sydney, Australia flexed their DJ chops for the official afterparty at Celine Orlando. Performing for two packed houses within the same night was a sure sign of the popularity of the group. Their US tour continues with their next stop at weekend 2 of Electric Forest.
Slayer – June 15, 2018 at Orlando Amphitheatre 
In addition to Rebelution's Free Rein Summer Tour 2018, the Orlando Amphitheatre and AEG Presents hosted Slayer's The Final World Tour, with guests Lamb of God, Anthrax, BEHEMOTH! & Testament. In addition to a heavy lineup of talent, fans were treated to a perfect day of Florida weather, complete with a refreshing afternoon shower and a rainbow. Visit the Orlando Amphitheatre's website to find out more about upcoming shows, including Sublime with Rome.
SOUTH FLORIDA
Will Clarke – June 1, 2018 at Cash Only 
In addition to hosting Sage Armstrong on June 22 (see our review of the Jacksonville show above), fellow Dirtybird Will Clarke brought the beats and cuddles to Cash Only on June 1st. As expected, Clarke threw down the beats, ensuring partygoers had plenty to talk about for weeks after.
Photos by Taylor Elberg of Exalted Imagery
HIFi Saturday – Every Saturday at Cash Only
For those looking to get down to a variety of genres, Cash Only hosted HIFi Saturday, every Saturday during the month of June. Free entry and three rooms of music that included Old School Hip Hop, House, and Top 40 ensured there was something for everyone.
Somatic – June 14, 2018 at Dunedin Brewery
Tampa natives Somatic brought their uniquely blended music to Dunedin Brewery on June 14th. With a style that is clearly inspired by genres ranging from Southern Rock to Funk and Hip Hop, they shared both covers and originals that left the entire audience smiling. Check out their events calendar to find out where the Florida-based band is off to next.
Shiba San @ Club Space Photo: Adinayev
Shiba San – June 23, 2018 at Club Space
Link Miami Rebels and Club Space teamed up to bring Florida another of Dirtybird labels finest, Shiba San. Between Shiba's effortless mix of house set, support from the talented Ms. Mada, Thunderpony, and Pacho Berrocal, and the club's unrestricted operating hours, this was a party that lasted until the sun came up.
Bonnie X Clyde – June 29, 2018 at Club Space
The DJ/producer/vocalist duo, Bonnie X Clyde played in the Loft at Club Space on June 29th. Their fanbase, named "The Rosegang," got a glimpse into what is ahead for this dynamic team in the coming months. Their latest EP, While We're Young, is due out this July.
Future Vintage Band – June 30, 2018 at Dunedin Brewery
Future Vintage Band brought the funk to Dunedin Brewery last week. Their fusion of classic funk instruments with the latest in today's technology delivers precisely what the band was going for – "original music that bridges the gap between all great Funk music past, present and future."
New Order Vs. Sisters Tribute – with Armada! at Churhill's Pub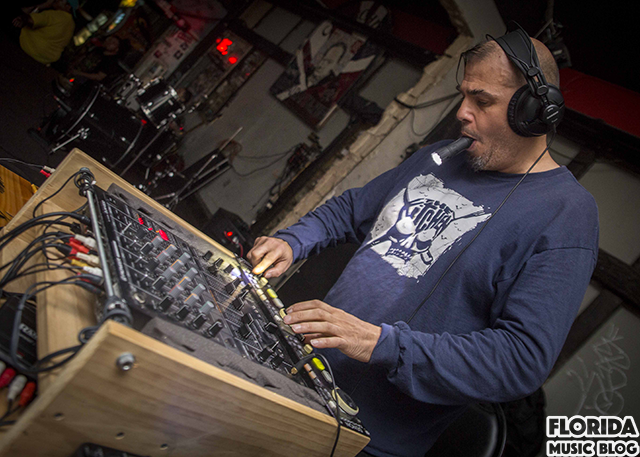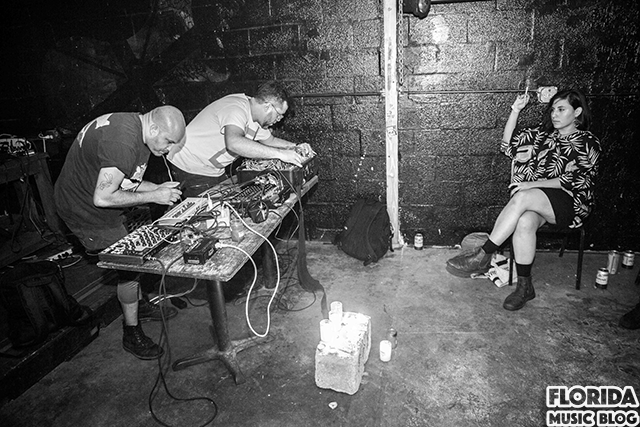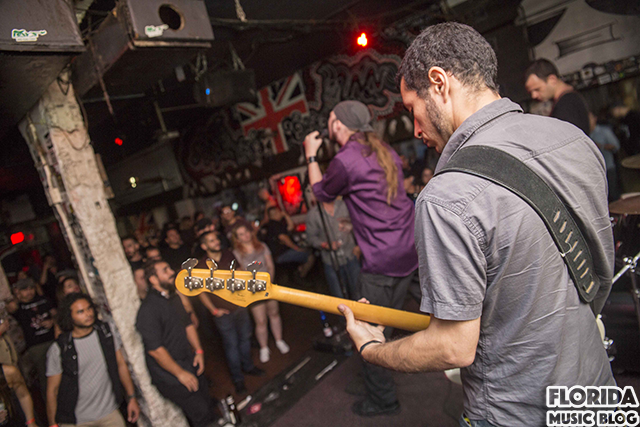 Photos submitted by Taylor Elberg of Exalted Imagery
FESTIVALS
Purple Hatter's Ball – June 1 & 2, 2018 at Spirit of Suwannee Music Park
While the festival was shortened from three days to two, this didn't prevent promoters from bringing attendees a stellar lineup. Click here to view our photos, interview with Luke Quaranta of Toubab Krewe, and recap of the festival we hold near and dear to our hearts. The spirit of Rachel Morningstar Hoffman lives on, binding attendees together through their love music and nature.
Beardfest – June 14 – 16, 2018 at Paradise Lakes Campground
Summertime in Florida means fewer outdoor fewer music festivals. To scratch our itch for nature, camping, and music, we headed up to Beardfest at the Paradise Lakes Campground in Hammonton, NJ. In its 7th year, this festival offers the perfect setting for unplugging and re-centering. Catch some of our favorite moments here, and find out why this is a music fest we never plan on missing again.
Have any live music stories/photos to share on Florida Music Blog? We are currently accepting volunteered content for publishing in our monthly recap. No experience required. To be considered, email your city and contact info to submissions@floridamusicblog.com – Subject Line: Live Music Recap
Advertise your event: info@floridamusicblog.com